Back to all posts
Posted on
A prayer for St Augustine Class of 2020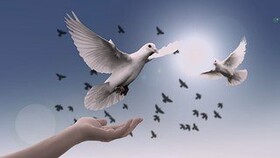 A prayer for our St Augustine Grade 12 Graduating Class of 2020: God of love and hope, May 8 was to be the graduation day of our St. Augustine students, but because of COVID, and like the whole world, we were forced to make other plans. 
So today,we pray for our grade 12 graduates and lift them up before you. We thank you so much for them, whom we love, and for the work You are continuing to do in their lives after graduation. 
They are a gift to us and to many others. And during this season of new beginnings, we ask that You make their way in life clear to them. We ask that You keep their footsteps firm and remind them that You are with them, always and everywhere. May they sense the freshness of your Holy Spirit over their lives in amazing ways. May they be strengthened and instilled with hope for the new roads You have in store for them. 
Heavenly Father, you made the world and care for all creation, but the world feels strange right now. The news is full of stories about coronavirus. Some people are worried that they might get ill. Others are anxious for their family and friends, and our students. Be with them and help them to find peace. We pray for the doctors and nurses and scientists, and for our students and teachers that they may be blessed with your grace and mercy. 
Thank you that even in these anxious times, you are with us, with our graduating students and their families, friends and teachers. 
Help us to put our trust in you and keep us safe.We thank you God, with heart, hands and voices, whom wondrous things you have done with our graduates, in Whom this world rejoices. 
May our merciful God Bless you, in the name of the Father, and the Son, and the Holy Spirit, and may He be with you always as you start your new journey in life, and keep you safe in all that you do.
Amen.
Fr. Shimit