Back to all posts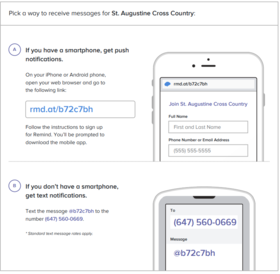 Cross country includes students in grade 4 - 12. 
Practices are each day, Monday to Thursday after school from 3:15 - 4:15. We meet at the main school foyer.
Students need proper running attire for the weather and a water bottle. The only time we do not run is if there is lightning.
Parents can receive notifications via Remind (see below)
Students are not required to attend every practice and can choose between 1-2 if they are playing other sports.
There is no fee unless runners participate in races.
Normally races have been set. Covid has delayed this and we are just getting information on them this week.