Back to all posts
Posted on
New Playground Project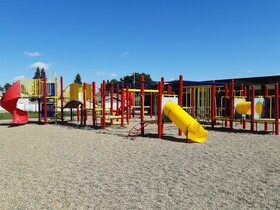 Our Red Playground was built over 30 years ago, and has served our school well. It has been
refurbished and repainted over the years, but it is now time to replace it.
The Friend's of St. A's playground committee is in the process of designing a new playground
and can't wait to share the final plan.
School playgrounds in Alberta are paid for through donations, fundraising, and grants, and
we've set a goal of raising $250,000 by the Spring of 2023.
We would love to fundraise in partnership with our local community so if you are a
business owner and have an idea to help us reach our goal, please contact us!
Donations  are accepted via School Cash Once logged in click on the 'Make A Donation' select St. Augustine New Playground and follow the screen prompts. Any donation over $10 will be issued a charitable tax receipt.
We are excited to support the children of St. Augustine School, and our community by providing a new safe and fun playground.
For more information and any questions, please contact the Friend's of St. A's by email at:
staugsc@gmail.com