Back to all posts
Posted on
Purdy's Chocolates – Christmas 2022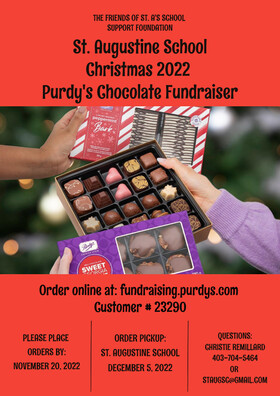 Thank you for your continued support in fundraising!
As always, fundraising is completely optional, but your help is greatly appreciated!
All funds raised from this campaign will go towards a new playground for the Primary School
Building. 
Last year we met our goal of selling $10,000 worth of Chocolate,
and we received $3159.46 to put towards our new playground! 
Purdy's has moved to an online ordering and paperless system, so individual catalogues are not
available, but you can find a digital version here: 
You can shop our campaign by going to: 
https://fundraising.purdys.com/1261938-97560 or
Fundraising.purdys.com and use our Customer Number: 23290 
Instructions to Order Online: 
Sign in or create a new supporter account either by clicking the link sent to you by our
coordinator or by visiting fundraising.purdys.com
If you're creating a new account, please enter the customer number below on the
registration page.
If you're signing into an existing account, enter the number below into the search bar that
will come up after you've signed in.
Click on JOIN CAMPAIGN. 
There will be a prize for the top Student Seller - Please note the student's name under
"Additional Info" on your order form or Customer information. 
The deadline for this fundraiser is November 20,2022 
Orders will be ready for pickup December 5, 2022 
If you have any further questions, contact Christie Remillard at 403-704-5464 or email staugsc@gmail.com 
Thank you for supporting our students!
~The Friends of St. A's