Back to all posts
Posted on
School Supply Fundraiser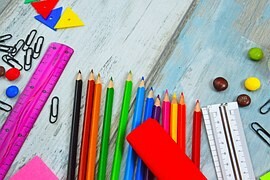 St. Augustine School and "The Friend's of St. A's" are offering a fundraiser that is a quick, affordable way to purchase school supplies for the 2020/2021 school year. Ordering online is easy and all the supplies will be delivered directly to your home. You can use the quantity tab to order the suggested amount, or customize amounts to use up left over supplies from this past year. 

FOR ONLINE ORDERS:
• Go to www.write-on.ca
• Click on "PARENTS – Order Here"
• School Name: St. Augustine School - PONOKA
• Choose your grade and create your order. • Multiple children can be added using "continue shopping" and choosing a different grade.• Complete your order by clicking "Place Order"
• You will receive an automatic email confirmation to confirm your order has been received.
• They accept VISA, MC, AMEX, Visa Debit and Interac On-line.

The ordering deadline is August 1. 
If you prefer to do your own shopping, supply lists can be found on the school website under the "Parents" tab. 
Please also check these lists for additional information re: shoes, locks etc. as the write-on site does not list any of these additional items that may be needed. 
For any questions please contact Christie Remillard @ 403-704-5464 or email: staugsc@gmail.com