Back to all posts
Posted on
Welcome Miss Steffie Dijkstra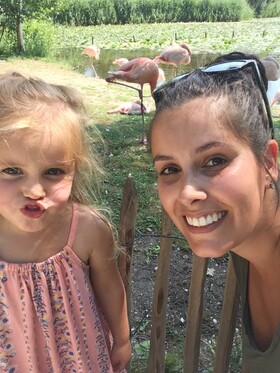 Hey everyone! My name is Miss Steffie and I am a social work student from RDC. I live by Lacombe with my 3-year-old daughter named Laetyn. I grew up in Holland and moved to Alberta when I was 10 with my parents and 2 siblings.
When I'm not at school we love to do fun things such as going to the zoo, swimming, going to the beach, playing on the playground, or catching up with friends. I enjoy exploring new places and have been to 11 different countries! I love trying wild new things like skydiving and wild water rafting!
My passion has always been with children and helping them explore their world around them. Being a support system for them during the difficult and good times. When finished school I'm hoping to get a job in a school. I really look forward to getting to know the children of St Augustine School and learning more about this fantastic community.